Livestock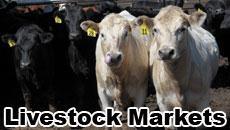 Weekly report on the livestock markets from K-State's Department of Agricultural Economics.
K-State Research and Extension Crops and Livestock homepage.
Beef Information
The beef extension program at Kansas State University strives to address all phases of beef production from the ranch to the plate. Subject area links above contain K-State publications. Additional materials can be found below from proceedings, research reports, other K-State websites and websites of other land-grant institutions.
If you don't find what you need on our website, please feel free to contact us by e-mail or by phone.